Sandford Fleming
​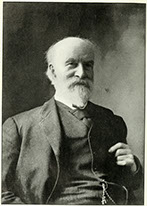 In 1845, an 18 year old apprentice surveyor named Sandford Fleming emigrated from Scotland to Canada. Endowed with great intelligence and ambition, Fleming soon became prominent in his field, and in 1849 he co-founded the Royal Canadian Institute for scientists and engineers. Fleming's primary career was as a railway engineer, surveying for the Grand Trunk Railway, which ran from Quebec to Vermont, and in 1855 he became the chief engineer for the Northern Railway of Canada.
But Fleming's interests were much wider than railways. He created Canada's first postage stamp, known as the Threepenny Beaver, and in 1876 he invented international standard time zones to solve the problem of co-ordinating railway timetables across continents, after he had missed a train while traveling in Ireland.
In 1897, 18 years before his death, Sir Sanford Fleming was knighted by Queen Victoria.
Click gray dot for full article.